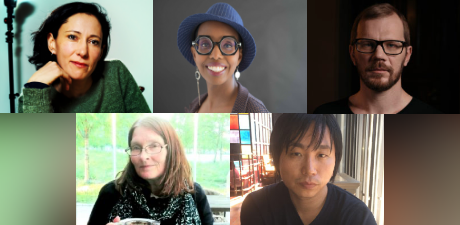 Belgium

Italy

Latvia

Finland
English and Japanese (with simultaneous interpretation)
21 Sat 19:30 - 21:00
Online only
Writers from various European countries and Japan share their ideas about isolation, their art and life. Part 1 invites authors from Belgium, Italy, Latvia, and Finland to speak with Takahiro Ueda (Japan).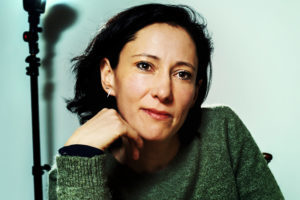 Saskia de Coster
Saskia de Coster (b. 1976) is an artist, playwright and regular participant in television debates, but above all she the author of a unique literary oeuvre. Her family chronicle We and Me became a bestseller and was nominated for just about every Dutch-language book award there is. The more personal and semi-autobiographical Night Parents is an ode to love and non-biological parenthood. Characteristic of De Coster's oeuvre are the striking images and profound stories. Most of her novels have been or are being translated.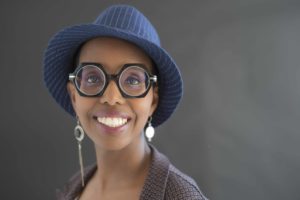 Igiaba Scego
Igiaba Scego, born in Rome in 1974 to a family of Somali origins, is a writer and freelance scholar. She holds a PhD in education on postcolonial subjects and has done extensive academic work in Italy and around the world. Among her books are a young adult novel, La nomade che amava Alfred Hitchcock (Sinnos, 2003), and the novels Rhoda (Sinnos, 2004) and Oltre Babilonia (Donzelli, 2006, English translation Beyond Babylon, Two Lines Press, 2019). Her memoir La mia casa è dove sono (Rizzoli, 2010) won Italy's Mondello Prize in 2011. She has also written the nonfiction Roma negata. Percorsi postcoloniali nella città (Ediesse, 2014, in collaboration with the photographer Rino Bianchi), a book that deals with a broad range of subjects in the history of Italian colonialism. Her novel Adua (Giunti, 2015), a portrait of a woman seeking herself in a long journey from Somalia to Italy, was published in the United States by New Vessel Press (2017), and in other countries. Her latest novel is La linea del colore (Bompiani, 2020) planned for 2021 by Other Press in the US, among others. She is a contributor to the magazine "Internazionale" and the newspaper "Domani".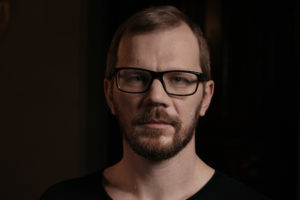 Jānis Joņevs
Jānis Joņevs (1980) is a prose writer. His first novel Jelgava '94 (Doom '94), published in 2013, immediately became a cult book among readers, and was chosen as one of 100 most favourite Latvian books of all time during the TV show Lielā lasīšana (The Great Reading). It was also praised among critics and received numerous awards, including the EU Prize for Literature in 2014. The novel is set in Jelgava city in 1994 and focuses on youngsters who are driven to heavy metal music. Sharing this taste of music and subculture, they explore the life through the eyes of their youth. It is a book of a whole generation who experienced their youth in the nineties, when Latvia had just regained independence. This novel has been adapted for a theatre performance by Jelgava New Theatre and as a film with the same title directed by Jānis Ābele. It has been translated into ten languages, and currently is being translated into Japanese.
Jānis Joņevs also writes short stories for children and adults. In 2014 the publishing house Liels un Mazs published his book for children Slepenie svētki (Secret Celebration). In 2020 Joņevs' first collection of stories Tīģeris (Tiger) was published by Dienas Grāmata.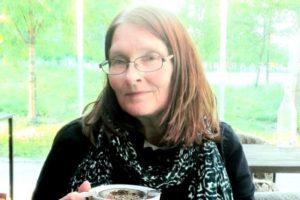 Marianne Backlén
Marianne Backlén is a Finland-Swedish writer who has published 14 books, most of them novels. She has studied English, Sociology and Literature at the University of Helsinki. Her novel Karma has a Buddhist theme, following the Noble Eightfold Path. In her latest novel from 2015 she explores her family history, how wars wound and separate people.
Backlén is interested in gender and race equality, LGBT themes, jazz, contemporary art, dance and cinema. In her blog Violetta skymningar (Violet twilights) she writes about life in Helsinki, her time at art residencies (among them Yukobo Art Space in Tokyo), her family, the changing of the seasons. Backlén is currently working on a novel with diamonds as a metaphor, from the Diamond Sutra to conflict diamonds and luxury jewellery.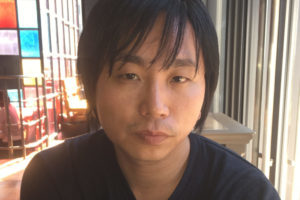 Takahiro Ueda
Takahiro Ueda is a Japanese novelist. He won the 2019 Akutagawa Prize for his science-fiction novel Nimuroddo (Nimrod). He also won the 2015 Mishima Prize for My One True Love. In 2016, he was named by Granta magazine as one of the best young writers in Japan.