6-2

Portugal

Lithuania

Ireland
English and Japanese (with simultaneous interpretation)
100 years of European Literature
27 Nov, 2022
13:10 - 16:00
Instituto Cervantes Tokio (also online via Zoom)
This year marks the centenary of the births of Jonas Mekas (Lithuania) and José Saramago (Portugal), as well as 100 years since the publication of James Joyce's ground-breaking novel Ulysses (Ireland). Taking this opportunity to mark these luminaries of European literature, artists and experts from each country will talk about the respective authors and their works.
Read the works related to this programme online
Part 1
Celebrating the Centenary of José Saramago "José Saramago; "L' enfant terrible of the Portuguese Literature"
The only Nobel Literature Prize-winning author writing in the Portuguese language, an atheist, and a communist, José Saramago often caused controversy in Portugal. Peixoto, who was a close friend in private life, and whose novel Autobiography (untranslated in Japanese) includes Saramago as one of the characters, will talk about Saramago the man and his work.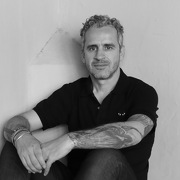 José Luís Peixoto
Born in 1974. He made his debut as a writer in 2000, in the following year, his first novel, Blank Gaze, was awarded the 2nd José Saramago Literary Award, which immediately positioned him as one of the leading writers of contemporary Portuguese literature. Saramago then acclaimed him as "one of the most surprising revelations in recent Portuguese Literature". Some of his works have been translated into Japanese, such as Galveias and short stories which were included in Selected Short Stories of Portuguese Contemporary Literature and in the web magazine Kangaeru Hito.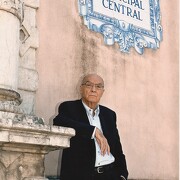 Part 2
In 2022, the world and Lithuania celebrate the life and work of Jonas Mekas, one of the country's most prominent cultural figures of the 20th and 21st centuries and a global cultural phenomenon in his own right. The centennial celebration, Jonas Mekas 100!, seeks to expand recognition of his work and encourage a deeper exploration of Mekas' prolific contributions to cinema, film criticism, cultural organization, and, in particular, his body of poems and prose, now published in Lithuanian, French, German, English, Japanese, Hebrew, and many other languages. This talk session between Julius Ziz, compiler of the recently published three-volume edition of Jonas Mekas' writings, and Yuki Nagae, poet and performer, will focus on Mekas' extensive contributions to literature.

Organised in collaboration with: Mita Bungaku Magazine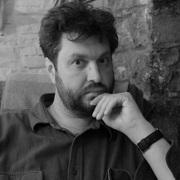 Julius Ziz
Julius Ziz's close friendship with Jonas Mekas began in 1990. Since 1992, Ziz has been working at the Anthology Film Archive as a programme curator and coordinator. Ziz has made over a dozen of films, including a cinematic portrait of Jonas Mekas: Meanwhile a Butterfly Flies. His works are in the collections of the MoMA (New York), the Cinemateque Française, the Austrian National Film Museum, the Museum of Modern Art in Paris, the Anthology Film Archives, and the Marcel Duchamp Estate. He has recently compiled a three-volume set of Jonas Mekas' writings, Poetry, Prose, Scripts and a Play, published by Odile Publishing House.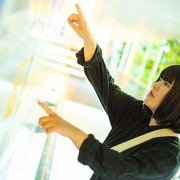 NAGAE Yūki
NAGAE Yūki received the 2012 Poetry and Thought Newcomer's Award, and her 2019 poetry collection Absentee Cities (Fuzai toshi) was awarded the Rekitei Prize. As a performance-poet, her work is at the frontiers of a new cross-disciplinary way of approaching poetic practice, deconstructing our lives and social environments and reconstructing them using technology as a poetic medium.
Part 3
Paula Meehan and Ulysses 100 in Japan
2022 marks the centenary of the ground-breaking novel Ulysses by Irish author James Joyce. In this session, panel moderator Professor Brian Fox (Okayama University) will discuss the novel's legacy and its influence in Ireland and Japan with poet Paula Meehan and Kumiko Yamada, Professor Emerita of Rikkyo University.

Performance: The talk will be followed by a short reading and music collaborative performance. Responding to Episode 6 of Ulysses, Paula Meehan, one of Ireland's most prominent living poets, produced a brand-new collection of poetry, For the Hungry Ghosts, written through the powerful and deeply personal lens of the grief and trauma she has experienced, inherited and lived. An intimate performance of her elegies was premiered in August 2022 at the Kilkenny Arts Festival, and an excerpt will be performed at this event.

Ulysses Episode 6, Hades: Bloom's journey on the 16th of June 1904, across Dublin to a funeral in Glasnevin Cemetery, is also a journey into Bloom's interior obsessions and the underworld of his emotional life: the suicide of his father, the death of his child, his fraught relationship with his wife Molly and her wandering eye, the anxiety attendant on his daughter's blossoming into womanhood.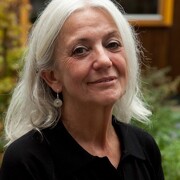 Paula Meehan
Paula Meehan was born in 1955 in Dublin where she still lives. She studied at Trinity College, Dublin, and at Eastern Washington University in the U.S. She has received many awards, including the Marten Toonder Award for Literature, The Butler Literary Award for Poetry, the Denis Devlin Memorial Award and the PPI Award for Radio Drama. She has published seven collections of poetry, the most recent being Geomantic (Dedalus Press, 2016). A selected volume, entitled Mysteries of the Home, was published in 1996. Her writing for stage includes the plays Mrs Sweeney (1997), Cell (1999), and, for children, Kirkle (1995), The Voyage (1997) and The Wolf of Winter (2003/2004). Her poetry has been set to music by artists as diverse as the avant-garde composer John Wolf Brennan and the folksinger Christy Moore. She has collaborated throughout her working life with dancers, visual artists and film makers. Paula Meehan is a member of Aosdána, the Irish affiliation of writers and artists. Professor Paula Meehan's As if By Magic: Selected Poems published by Dedalus press in 2020 has been translated by Professor Mitsuko Ohno and others and published by Shichosha in September 2022.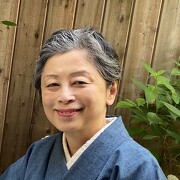 Kumiko Yamada
Professor Emerita, Rikkyo University. Ph. D., University College Dublin. She encountered James Joyce at age 14 while studying in a boarding school in Switzerland. Her recent publications include James Joyce-to Toyo: Finnegans Wake-e-no Michishirube (James Joyce and the East: Ruodmarks to Finnegans Wake, Suiseisha, 2018) and Kano Tomonobu: Saigo-no Okueshi, Bakumatsu Meiji-wo Ikiru (Kano Tomonobu: the Last Court Painter Lives Through Bakumatsu and Meiji, Suiseisha, 2021), a biography of her great-grandfather.
Moderator
Brian Fox
Associate Professor of English at Okayama University, Japan. His recent publications include James Joyce's America (Oxford University Press, 2019) and he is currently preparing a new edition of Finnegans Wake, forthcoming with Penguin in 2023. As of 2022, he is the editor of the Journal of Irish Studies, the journal of IASIL Japan.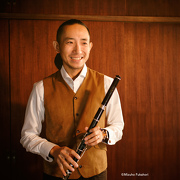 Kozo Toyota
A graduate of Tokyo University of Arts (Geidai), he is the first Japanese competitor and medal recipient at the worldwide Irish music competition Fleadh Cheoil na hÉireann. He is also the founder of Toyota Céili Band.