4-1

Slovakia
English (with simultaneous interpretation into Japanese)
25 Nov, 2022
17:00 - 17:50
Instituto Cervantes Tokio (also online via Zoom)
In his presentation, Tomáš Forró will discuss not only a new war but also its interpretation in literature and art. He has documented not only global events, but also the lives of ordinary people who had become victims of the conflict. He will also read some extracts from his book Donbass.
※ Speaker will participate virtually (online)
Read the works related to this programme online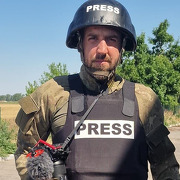 Tomáš Forró
Tomáš Forró is a war journalist living now in Poland and an author of books about criminal gangs in Latin America and on the war in Donbass 2014-2020. His book Donbass was published in 4 languages. Today he is again covering the Russian aggression on Ukraine.