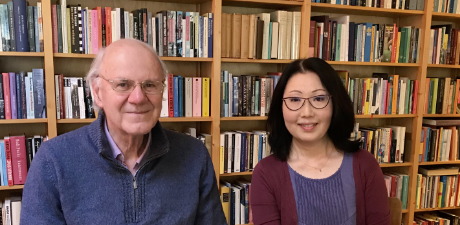 Netherlands
Dutch, Japanese (with interpretation)
22 Mon 20:00 - 21:15
Online only
In an intimate interview exploring the charm of Toon Tellegen's work, translator Saki Nagayama talks to the author, who just turned 80, about his work such as "What the Hedgehog Really Wanted", "A Great and Complicated Adventure", "The Grasshopper's Happiness", and "The Train from Pavlovsk and Oostevoorne". Since an interview prior to the publication of the Japanese translation of ''The Grasshopper's Happiness''(Shinchosha, 2021) was not possible this year, they will discuss this title as well as his poetry that is not yet known in Japan.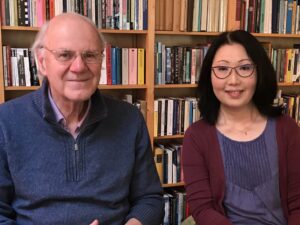 Toon Tellegen
Born in 1941 on an island in the south of the Netherlands to a Dutch father and a Russian-born mother. After graduating from Utrecht
University and serving as a Masai doctor in Kenya, he became a practitioner in Amsterdam. In 1984, he published the story of animals, Not a Day Went By, written for his young daughter. Since then, he has published more than 50 books with animals as the main characters and won many literary awards. Highly respected by the Dutch publishing world and readers it is no surprise that he has won both the Theo Thijssen Prize (an oeuvre award for writers of books for children and young adults) and the Constantijn Huygens Prize for his entire oeuvre, as well as the 2017 Japan Booksellers' Award in the translation novel category for What the Hedgehog Really Wanted.
Saki Nagayama
Born in Kobe in 1963. Completed the master's program at Kwansei Gakuin University Graduate School, Department of Cultural Anthropology.
Studied abroad in 1987 at Leiden University as a Dutch government scholarship student. Since then, she has lived in the Netherlands and
now lives in Amsterdam. Her translated works include What the Hedgehog Really Wanted and The Grasshopper's Happiness by Toon Tellegen, The Discovery of Heaven and The Procedure by Harry Mulisch, Post Mortem by Peter Terrin, The Blue Wings by Jef Aerts, The Secret Diary of Hendrik Groen, 83 1/4 years old by Hendrik Groen etc.