English-Japanese simultaneous interpretation
26 Sun. 15:30 - 16:45
Iidabashi Institut français du Japon - Tokyo Espace Images
Translators and writers working in different languages discuss various aspects of literary translation. Participants: German poet Dieter M. Gräf, translators Shinichi Sakayori (German and Austrian literature), Mitsuko Ohno (Irish literature), Yumi Nishimura (Dutch literature), and Anita Nagy (Japanese literature into Hugarian). Moderator: Toshihide Kurihara (Italian literature) .
Dieter M. Gräf 
Born in 1960. Lives in Berlin, as a writer. Participates in numerous projects. Since 1985, has published poetry collections and catalogues, which have been translated into many languages. Currently staying as artist-in-residence at Villa Kamogawa in Kyoto.
Shinichi Sakayori
Born in 1958. Stidied at Sophia University, University of Köln und Unversity of Münster. Professor at Wako University. He translated Verbrechen, Schuld, Terror (Ferdinand von Schirach), Rachesommer, Rachefrist(Andreas Gruber), Demian(Hermann Hesse) etc.
Mitsuko Ono
Studied at Connecticut College and graduated from Nara Women's University, Faculty of Letters, Department of Language and Culture; Master's degree, Nagoya University, School of Letters.  Ph.D. (literature),  Nara Women's University. Professor emeritus, Aichi Shukutoku University. IASIL  Japan (Japan branch of the International Association for the Study of Irish Literatures)  executive committee member (1990- ), presiendt (2006-2008).
Yumi Nishimura
Graduated from the Anglo-American Department of the Tokyo University of Foreign Studies. From 1984 to 86, lived in the Netherlands and studied Dutch. After returning to Japan taught Dutch at the Foreign Service Training Institute of the Ministry of Foreign Affairs, and began to translate Dutch and Flemish books. At present dedicate to translating children's and YA books from Holland and Flanders.
Anita Nagy
Born in Budapest, Hungary. She earned an MA in Japanese Studies, Hungarian Studies and Hungarian as a Foreign Language in Budapest. She is the translator of Akiko Itoyama's novels and short stories (including Akutagawa-prize winning Waiting in the Offing), Takashi Hiraide's The Guest Cat, and several works of Haruki Murakami (1Q84 (partly), The Elephant Vanishes, After Dark, Colorless Tsukuru Tazaki and His Years of Pilgrimage, What I Talk About When I Talk About Running, Men Without Women) into Hungarian. Currently she is in charge of Cultural and Educational Affairs at the Embassy of Hungary in Tokyo.
moderator: Toshihide Kurihara
After a Master at Kyoto University, he graduated in philology at the Università della Calabria (Italy). He has translated the philosopher Giorgio Agamben, the novelists Amara Lakhous (born in Algeria and writing in Italian) and Melania G. Mazzucco, and, from the English, three novels by John Fante. With his Japanese translation of La festa del ritorno by Carmine Abate (Michitani, 2016), he won the "Suga Atsuko" translation prize held every two years by the Italian Cultural Institute in Tokyo.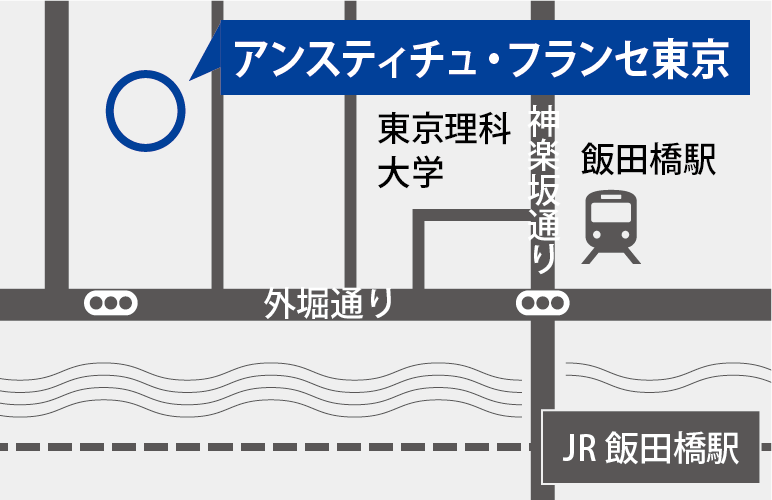 Iidabashi
Institut français du Japon - Tokyo
15 Ichigaya-funagawara-machi, Shinjuku-ku, Tokyo
7 minutes walk from Iidabashi station, Nishi-guchi (West) exit on the JR Sobu Line; 7 minutes walk from Iidabashi station, B3 exit on Tokyo Metro (Yurakucho, Nanboku, Tozai lines): 7 minutes walk from Ushigome Kagurazaka station (Oedo line).